Here's our list of the Top 10 Stoner Comedies. Each and everyone is packed full of marijuana and funny. Enjoy




10. Friday:

Having just been canned from his job on his day off, Craig and his best friend Smokey spend the day smoking up in their South Central neighborhood while dealing with a neighborhood bully, relationship troubles, an angry drug dealer, and a lot of other odd characters.






9. Harold and Kumar 2 Escape to Guantanamo Bay:

The morning they return from their White Castle road trip, Harold and Kumar decide to go to Amsterdam because Harold doesn't want to wait ten days to see Maria again. On the plane, Kumar lights up his new bong, the air marshals think it's a bomb, and Harold and Kumar are arrested as terrorists and sent to Guantanamo Bay. Ordered to fellate a guard, they manage to escape, make their way to Florida, and head for Texas to find Kumar's ex-girlfriend's fiancé, the well-connected Colton, and get him to intercede with Washington on their behalf. Kumar still has a thing for Vanessa, the feds are in hot pursuit, and the legal weed of Amsterdam seems a long way away:






8. Knocked Up:

When Alison Scott is promoted in E! Television, she goes to a night-club to celebrate with her older married sister Debbie. Alison meets the pothead reckless Ben Stone and while having a small talk with Ben, Debbie's husband Pete calls her to tell that their daughter has chicken pots. Debbie leaves the place but Allison stays with Ben, drinking and dancing along all night; completely wasted, they end up having a one night stand. Ben does not use condom and eight weeks later, Allison discovers that she is pregnant. She calls Ben and they decide to try to stay together and have the baby. However, Ben needs to grow-up first to raise a family of his own.






7. Fear and Loathing in Las Vegas:

An adaptation of Hunter S. Thompson's novel of the same name. The film details a whacky search for the "American Dream", by Thompson and his crazed, Samoan lawyer. Fueled by the massive amount of drugs they purchased with an advance from a magazine to cover a sporting event in Vegas; they set out in the Red Shark. Encountering police, reporters, gamblers, racers, and hitchhikers; they search for some undefinable thing know only as the "American Dream" and find fear, loathing and hilarious adventures into the dementia of the modern American West.






6. How High:

Drug enthusiast and chemical master Silas and his friend Jamal lose their best friend Ivory to a disturbing pot and dread-lock related fire. After Growing a pot plant in his ashes they use his heavenly connections to hook them up with all the knowledge they need to make it to Harvard... where they change the lives of the up-tight ivy league in the way only good stoner's can.






5. Half Baked:

After Kenny accidentally kills a cop's diabetic horse by feeding it the food he purchased from a munchie run, he is put in jail and is given a 1 million dollar bail. The rest of the group must bail Kenny out before Nasty Nate gets to him. The group decides to sell marijuana that Thurgood gets through his job as a janitor at a pharmaceutical lab. They become pals with rap star Sir Smoke-A-Lot and the rivals of dealer Samson Simpson. On the side, Thurgood seeks the love of Mary Jane, an anti-pot daughter of a dealer. What follows is typical pothead behaviour with a ton of cameos. Look carefully.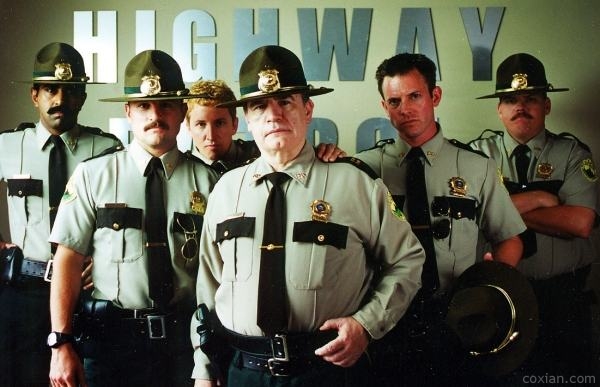 4. Super Troopers: Thorny, Mac, Rabbit, Foster and Farva are Vermont state troopers out to have a good time. Stationed in a remote area near the Canadian border, the troopers, avid pranksters with an affinity for syrup, have a knack for screwing up on the job. But when budget cuts in the town of Spurbury threaten their livelihood and pit them against arch-rival Spurbury P.D., the five friends try to straighten up and fly right. That is, until a dead body is discovered and a possible drug ring is unearthed. The super troopers spring into action attempting to solve the crime, save their jobs, and outdo the local police department.






3. Grandma's Boy:

When his roommate spends the rent money on Filipino hookers. Alex, a 35 year video game tester has to find a new place to live. After a "encounter" with his friends mom, Alex is forced to move in with his grandmother. Trying to save face with his younger co-workers, Alex says that he is living "with three hot babes" (meaning his grandmother and her two roommates).






2. Pineapple Express:

Lazy court-process clerk and stoner Dale Denton has only one reason to visit his equally lazy dealer Saul Silver: to purchase weed, specifically, a rare new strain called Pineapple Express. But when Dale becomes the only witness to a murder by a crooked cop and the city's most dangerous drug lord, he panics and dumps his roach of Pineapple Express at the scene. Dale now has another reason to visit Saul: to find out if the weed is so rare that it can be traced back to him--and it is. As Dale and Saul run for their lives, they quickly discover that they're not suffering from weed-fueled paranoia: incredibly, the bad guys really are hot on their trail and trying to figure out the fastest way to kill them both. All aboard the Pineapple Express.






1. Harold and Kumar Go to White Castle:

Harold Lee and Kumar Patel are two stoners who end up getting the munchies. After seeing a television advertisement they develop a serious craving for White Castle. So from here, follows a journey for the burgers they require. On their way they will encounter many obstacles including a raccoon, a racist officer, and a horny Neil Patrick Harris.